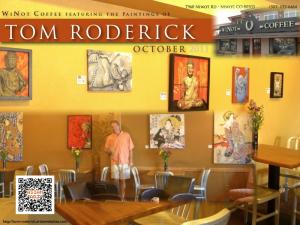 Itís official, fall is here. Niwot offers a free self-guided tour of local art galleries, art studios, museums, and alternative art venues on the First Friday of every month from 5-8 pm.

Contemporary Artist, Tom Roderickís Asian Art Series is currently on display at WiNot Coffee for the month of October.

If youíve never been to Niwot itís certainly worth the trip. The Town of Niwot is located 7 miles north of Boulder and 3 miles south of Longmont on Highway 119.